CALL 416.798.7050 FOR ANY SALES AND CUSTOMER SUPPORT INQUIRIES
IN THE MIX.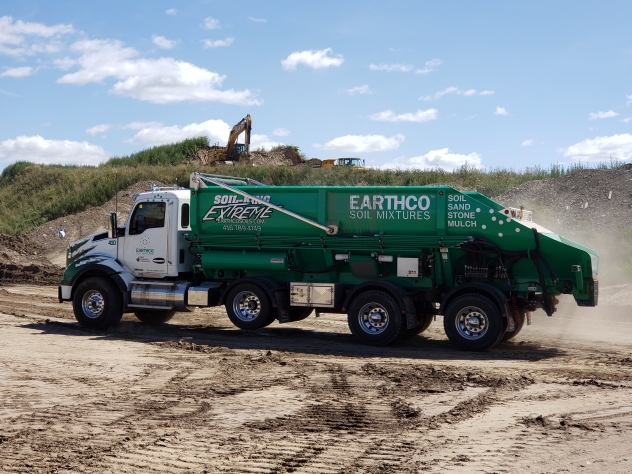 JAN
29
EARTHCO SOIL MIXTURES DELIVERY SERVICES
At Earthco Soil Mixtures, we are equipped to provide a wide range of delivery options. We offer prompt and reliable delivery service within the GTA. We ensure our customers are satisfied and that their businesses are given the materials they need to complete their projects. We supply bulk soils, custom soil blends and mulches using the following delivery methods:
TRI-AXLE
We offer bulk delivery via our fleet of Tri-Axle dump trucks. With an average capacity of 25 YD3 we are able to deliver any of our products efficiently in bulk.
SLINGER TRUCK
Save on time and labour and let us place the material for you. Order the Soil King or Soil King Extreme and utilize our state-of-the-art slinger trucks. We are able to precisely place or 'sling' soil into position without the need for additional labour.
REMOTE GROUND DRIVE SLINGER SERVICE
Using a slinger truck, the remote ground drive allows the driver to get out of the truck and drive the slinger from the ground using wireless controls. The driver can walk beside the area that the material is 'slung' into and determine where he needs to maneuver the truck without having to stop the flow of material. This saves a lot of time in the field and also helps drivers place the material more accurately, with less stop and go, allowing a uniform placement of material from the slinger.


END DUMP & WALKING FLOOR TRAILERS
Need your bulk delivery in larger quantities? We also offer delivery via end dump trailers and via high capacity, self-unloading walking floor trailers for more constricted delivery areas.
BLOWER TRUCK
Need to get soil in a tough to reach or elevated location? Using a pneumatic blower truck, we are able to easily place specific soil blends into hard to access locations (including condominium buildings), reducing the need for excessive material handling.
1 CUBIC YARD TOTE BAGS
Do you have a limited amount of space to work with on your project? We are able to place any of our materials into 1 YD3 tote bags for convenient storage and delivery on site. Delivered via flatbed truck, our tote bags can be forklifted, hoisted or craned into position if needed.
If you have any questions or would like to learn more about our various delivery services, give us a call today at 416-798-7050 to speak with an Earthco respresentative.
Earthco Soil Mixtures. Providing topsoil, custom soil, mulch and compost in Toronto, Vaughan, Scarborough and throughout the Greater Toronto Area.